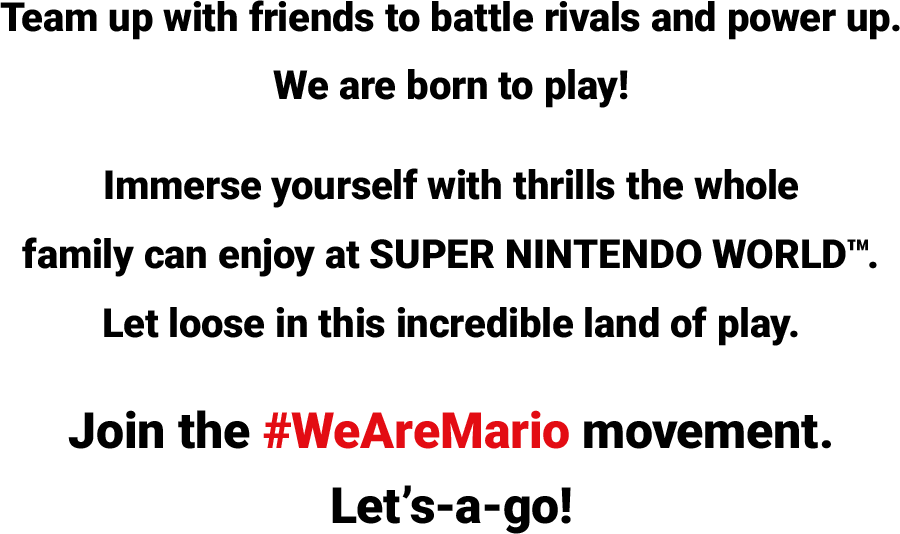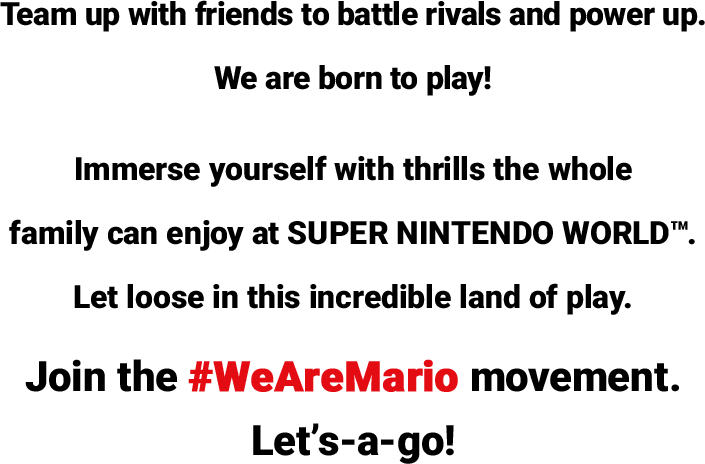 Imagine an immersive and innovative universe of Nintendo brought to life.
Get ready to enjoy SUPER NINTENDO WORLD™ featuring the Nintendo experiences you know and love in a way you never thought possible.
The land's interactive environments will seamlessly connect using state-of-the-art technology to create an innovative and immersive theme park experience for countless opportunities to discover the excitement of your favorite games.
SUPER NINTENDO WORLD™'s ultra-immersive Mario Kart puts you in the driver's seat.
Explore the area on the back of a Yoshi on this family-friendly adventure.
Take it to the next level with a Power Up Band* where you can keep score and stay connected while discovering a multi-level game area filled with one-of-a-kind challenges!
As you explore, you'll discover punchable ? Blocks and many other iconic elements from your favorite Nintendo games. Explore, Discover and Play.

*Power Up Band will be available for purchase

Galantis

Swedish internationally-acclaimed duo/producer setting a new standard for songwriting in dance music, with over 3 billion cumulative worldwide streams and over 1 billion video views to date.

Charli XCX

This next-generation singer-songwriter from England is one of the hottest pop sensations of her generation. Both a performer and creator, Charli XCX has collaborated with artists around the world, showcasing her one-of-a-kind sensibility. Her achievements in the music world are numerous, including multi-platinum hits "Fancy" and "I Love It,"two Billboard Music Awards, and Grammy nominations in 2015.