TOP > Attractions > Yo-kai Taiso: The Real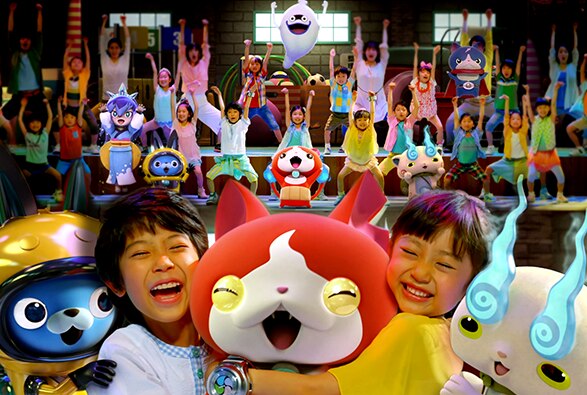 This event has been extended until January 8, 2018!
* Event period is subject to change.
Dance your troubles away with Yo-kai! They're cute, they're fun, and surprisingly realistic!
Yo-kai appear before your very eyes to dance with you! All sorts of mysterious events happen at a certain attraction, perhaps orchestrated by various Yo-kai lurking throughout the park... "Yo-Kai Dance" is the perfect opportunity for you to get down with Jibanyan and the gang, and even make friends with them!
Guest experience :
Approx. 15 minutes
Area :
Ride and height requirements for all attractions
Guest experience: Approx. 15 minutes
Capacity: 300 persons
(including 2 spaces for wheelchairs/ECVs)
This is a show attraction where guests encounter Yo-kai and perform the Yo-kai Taiso together.
- Eating or drinking within the premises is prohibited.
- Smoking within the premises is prohibited.
- There are no restrooms within the premises.
- In case of an emergency, you may be required to walk by yourself over uneven ground, through narrow passages, or over long distances. You may also be asked to evacuate with the assistance of your accompanying guest.
◆Guests who should not use the attraction
Guests who suffer from the following conditions or have other conditions that could be aggravated by partaking in this attraction will not be admitted.
Heart disease, blood pressure abnormality, vertigo, claustrophobia, poor physical health
The following special effects are used. Guests who suffer from conditions that could be aggravated by the special effects listed below will not be admitted.
Fog/smoke, strobe lights, loud noises, darkness
◆Precautions
For your safety, please follow the instructions given by the crew.
Additionally, guests who engage in violent or otherwise troublesome behavior will be asked to leave the park by the crew.
- If you require a wheelchair, please consult with a crew member beforehand.
You may be required to change to a designated wheelchair depending on the size and shape of your wheelchair or electric wheelchair.
- Surveillance cameras are in constant operation.
- Please speak with a crew member beforehand if you have a plaster cast.
- Please consult a crew member if you have medical equipment such as an assisting tool or prosthesis that is not firmly attached.
◆Guests who require an escort (one who is mentally/physically healthy, of junior high school age or older, and meets our usage requirements)
- Guests who may have difficulty during an emergency.
- Guests with mental disabilities.
- Guests with visual disabilities.
- Guests requiring wheelchairs.
For guests with any other disabilities, please consult with a crew member.
Child Switch
The Child Switch system enables guests with children/companions who do not meet an attraction's height or other requirements to take turns and enjoy the attraction without waiting in line again. For details, please ask a crew member at the attraction.