TOP > Attractions > WaterWorld™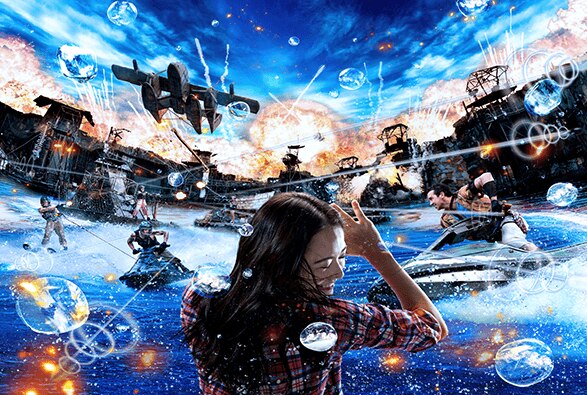 Presented by Co-ca Cola company
Take a chance at excitement!
Experienced by over a hundred million people(*) around the world! You'll be breathless throughout this hugely popular attraction show as a series of tremendous stunts like the ones seen in the movies unfolds just before your eyes. With the enhanced sound effects you'll imagine you're in the middle of the action with explosions and gunfire. Find yourself in the middle of an intense battle on water!
Guest experience :
Approx. 20 minutes
Area :
*: Based on annual park attendance totals since the opening of "WaterWorld™" at Universal Studios' three global locations (company research as of October 2017). For the period between 1995 and 2007 in which attendance numbers at Universal Studios Hollywood were unclear, the lowest numbers from 2008 forward were used.
Ride and height requirements for all attractions
Guests with assistance dogs
(guide dog, service dog, hearing dog)
>> more
Attraction Requirements
Guest experience: Approx. 20 minutes
Capacity: 3220 persons
(including 120 standing spots and 22 spaces for wheelchairs/ECVs)
※Please note that depending on your seat location, you may experience splashing of water while experiencing this attraction.
◆Special Effects
Fog, smoke, effects using fire, water, loud sounds
※Persons with conditions aggravated by these special effects cannot use this attraction.
◆For Your Safety
In case of emergency
A crew member will give you instructions for an emergency exit.
Supervising companion (※ )may be required for an emergency exit.
◆Guests requiring supervising companions
- Guests that may experience difficulty following emergency procedures
- Guests with impaired vision
◆Guests who should not use the attraction
Persons with any of the following conditions: (1) respiratory diseases, (2) new born babies, and (3) hypersensitivity to noises.