TOP > Attractions > WaterWorld™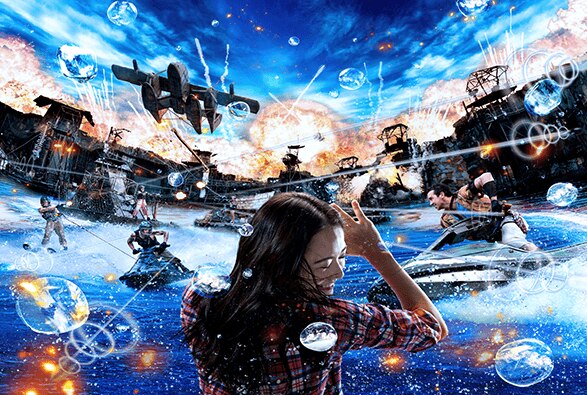 Presented by Co-ca Cola company
A series of tremendous stunts just like in the movies.
An adventure show full of breathtaking action!
"Waterworld™," a film about the earth in the future that has changed into an ocean planet because of global warming. The city depicted in this film called the "drifting city Atoll" has appeared in the park. The tremendous battle scenes unfolding here are just like in the movie. Motor boats and jet ski bikes gliding in full speed and stunt person on fire making a 13 meter dive. Astounding stunts will take your breath away. An adventure show full of action will take you away into the world of the movie!
Guest experience :
Approx. 20 minutes
Area :
Ride and height requirements for all attractions
Guests with assistance dogs
(guide dog, service dog, hearing dog)
>> more
Attraction Requirements
Guest experience: Approx. 20 minutes
Capacity: 3216 persons
(including 120 standing spots and 18 spaces for wheelchairs/ECVs)
※Please note that depending on your seat location, you may experience splashing of water while experiencing this attraction.
◆Special Effects
Fog, smoke, effects using fire, water, loud sounds
※Persons with conditions aggravated by these special effects cannot use this attraction.

◆For Your Safety
In case of emergency
A crew member will give you instructions for an emergency exit.
Supervising companion (※ )may be required for an emergency exit.

◆Guests requiring supervising companions
- Guests that may experience difficulty following emergency procedures
- Guests with impaired vision
◆Guests who should not use the attraction
Persons with any of the following conditions: (1) respiratory diseases, (2) new born babies, and (3) hypersensitivity to noises.