TOP > Attractions > Terminator 2:3-D®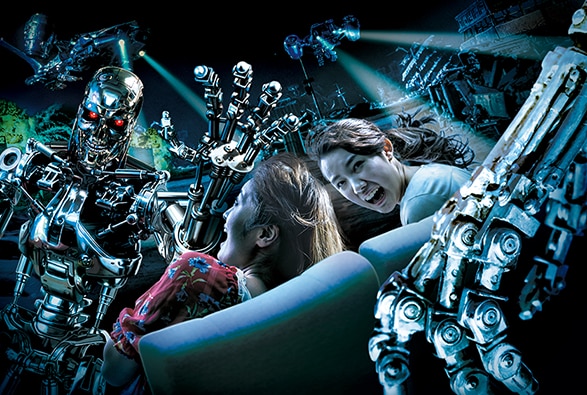 Presented by NEC Corporation
Reality is dissolved and absorbed right before your eyes into the world of "Terminator®."
The battle for the future between humans and cyborgs unfolds before your eyes. A super-3D movie that makes you reflexively lean back comes up close, and suddenly the hero on screen appears on stage. Powerfully recreated world of "Terminator®" dissolves reality. And then, in a blink of an eye, swallows it whole.
Guest experience :
Approx. 30 minutes
Area :
Ride and height requirements for all attractions
Guests with assistance dogs
(guide dog, service dog, hearing dog)
>> more
Attraction Requirements
Guest experience: Approx. 30 minutes
Capacity: 750 persons
(including 8 spaces for wheelchairs/ECVs)
◆Special Effects
Fog, smoke, strobes, water, loud sounds, pitch black, 3D effects, seat movement
※Guests with health conditions that may be aggravated by these may not use the attraction.
◆For Your Safety
In case of emergency
A crew member will give you instructions for an emergency exit.
A supervising companion (※) may be required for an emergency exit.
◆Guests requiring supervising companions
- Guests that may experience difficulty following emergency procedures
- Guests with impaired vision
◆Guests who should not use the attraction
Persons with any of the following conditions: (1) heart conditions, (2) back, neck, or similar conditions, (3) respiratory diseases, (4) convulsions or spasms, (5) expectant mothers, (6) claustrophobia, (7) hypersensitivity to noises, (8) unable to sit up unassisted, and (9) newborn babies.
The Universal Express™ Pass shortens your waiting time for designated popular attractions!
Child Switch
The Child Switch system enables guests with children/companions who do not meet an attraction's height or other requirements to take turns and enjoy the attraction without waiting in line again. For details, please ask a crew member at the attraction.