TOP > Attractions > Universal Monsters Live Rock And Roll Show™
Universal Monsters Live
Rock And Roll Show™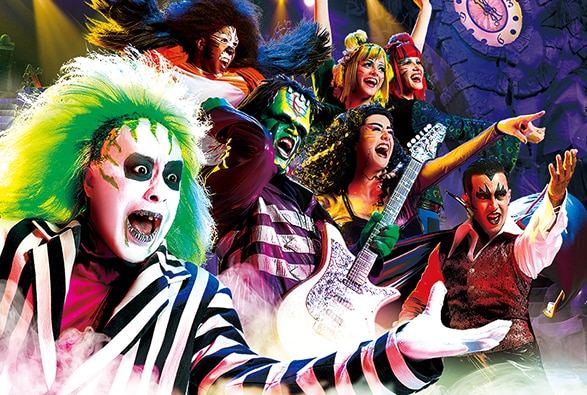 Presented by Jupiter Telecommunications Co., Ltd./J:COM West Co., Ltd.
Beetlejuice™ and friends charm you with authentic live entertainment.
The funky and crazy monster Beetlejuice™ and his friends, Dracula, Werewolf, Frankenstein™ and his bride gather in a graveyard at night. The monsters who once threw the world into the depth of fear are now setting the whole theater with excitement with their Hollywood-trained songs and dances. Don't miss the authentic live entertainment featuring famous rock numbers.
Guest experience :
Approx. 30 minutes
Area :
Hollywood
Ride and height requirements for all attractions
Guests with assistance dogs
(guide dog, service dog, hearing dog)
>> more
Attraction Requirements
Guest experience: Approx. 30 minutes
Capacity: 902 persons
(including 5 spaces for wheelchairs/ECVs)
◆Special Effects
Fog, smoke, strobes, effects using fire, loud sounds, pitch black
※Persons with conditions aggravated by these special effects cannot use this attraction.
◆For Your Safety
In case of emergency
A crew member will give you instructions for an emergency exit.
Supervising companion (※) may be required for an emergency exit.
◆Guests requiring supervising companions
- Guests that may experience difficulty following emergency procedures
- Guests with impaired vision
◆Guests who should not use the attraction
Persons with any of the following conditions: (1) respiratory diseases, (2) convulsions or spasms, (3) hypersensitivity to noises, and (4) newborn babies.