TOP > Attractions > JAWS™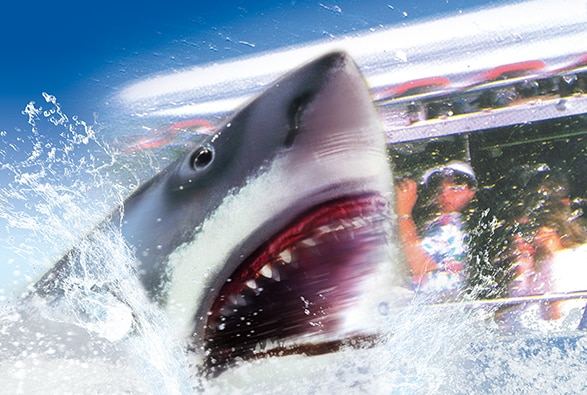 Presented by Sumitomo Mitsui Card Co., Ltd.
A boat tour of fear, where a gigantic man-eating shark attacks!
A boat tour at a peaceful port town with a relaxed air. It starts out in a friendly mood, but suddenly a gigantic, man-eating shark appears, throwing everyone into the depth of fear. Rifles and wall of fire are no match to this unimaginably huge body. With its humongous mouth and sharp teeth, it can even bite a hole in the bottom of a ship. Will you be able to find the chance and escape from the repeatedly attacking shark safely?!
Guest experience :
Approx. 7 minutes
Area :
Ride and height requirements for all attractions
Height Requirement
You must be at least 122 cm tall or all height if the person is accompanied by a supervising companion and able to stay in his/her own seat unassisted.
(The height requirement has been effective since March 14, 2012.)
Guests with assistance dogs
(guide dog, service dog, hearing dog)
>> more
Attraction Requirements
Guest experience: Approx. 7 minutes
Capacity: 48 persons
※Please note that you may experience significant splashing of water while riding this attraction.
◆Special Effects
・Fog, smoke, strobes, effects with fire, water, loud noises, pitch black
・Rapid acceleration, wild turns, abrupt falls, sudden falls, steep slopes
※Persons with conditions aggravated by these special effects cannot use this attraction.
◆For Your Safety
In an emergency situation you may need to climb up stairs or walk a long distance through a narrow passage by yourself or with your supervising companion (※). Also, in such a circumstance you may need to wait for a long period of time inside the vehicle.
◆Guests requiring supervising companions
- Guests using wheelchairs
- Guests with impaired vision
- Guests with mental disabilities
- Guests experiencing difficulty using stairs or getting in/off the vehicle
◆Guests who should not use the attraction
Persons with any of the following conditions: (1) heart conditions, (2) back, neck, or similar conditions, (3) respiratory diseases, (4) convulsions or spasms, (5) expectant mothers, (6) motion sickness, (7) dizziness, (8) hypersensitivity to noises, (9) sensitive skin, (10) claustrophobia, (11) nyctophobia (fear of pitch black), (12) unable to sit up unassisted, and (13) newborn babies.
◆The following guests can use the attraction.
・Guests who can get in/off the vehicle with or without their supervising companions.
・Guests who can remain seated upright at all times
・Guests who can endure rapid movements
※Guests with hearing impairment will be assisted by a crew member explaining the attraction experience in details.
The Universal Express™ Pass shortens your waiting time for designated popular attractions!
Single Rider
Guests can use this service to shorten waiting time by taking separate seats on the ride. This service is not available on certain days or at certain hours during the day. For availability and other requirements, please ask a crew member at the attraction.
Child Switch
The Child Switch system enables guests with children/companions who do not meet an attraction's height or other requirements to take turns and enjoy the attraction without waiting in line again. For details, please ask a crew member at the attraction.