TOP > Attractions > Backdraft™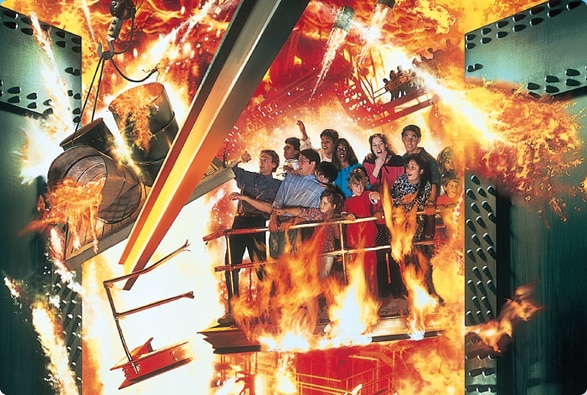 Presented by JTB Corp.
Facing an inferno up close and personal, you'll be rooted to the spot, unable to move!
The world of "Backdraft™," a major film depicting overwhelming fire scenes, opens before your eyes. Exploding oil drums, gushing pillars of fire, encroaching walls of flame, and enveloping hot blasts. The fear of the raging inferno around you will root you to the spot!
Guest experience :
Approx. 20 minutes
Area :
Ride and height requirements for all attractions
Guests with assistance dogs
(guide dog, service dog, hearing dog)
>> more
Attraction Requirements
Guest Experience: Approx. 20 minutes
Capacity: 240 persons
(including 5 spaces for wheelchairs/ECVs)
※Please note that you may experience splashing of water while using this attraction.
◆Special Effects
Fog, smoke, effects using fire, water, loud sounds, pitch black, sudden movements
※Persons with conditions aggravated by these special effects cannot use this attraction.
◆For Your Safety
In case of emergency
A crew member will give you instructions for an emergency exit.
Supervising companion (※) may be required for an emergency exit which involves going up and down the steps.
◆Guests requiring supervising companions
- Guests that may experience difficulty following emergency procedures
- Guests with impaired vision
- Guests using wheelchairs
◆Guests who should not use the attraction
Persons with any of the following conditions: (1) heart conditions, (2) back, neck, or similar conditions, (3) respiratory diseases, (4) hypersensitivity to noises, (5) sensitive skin, (6) newborn babies, and (8) expectant mothers.
※For those guests with impaired vision, a crew member will explain the attraction experience in details.
The Universal Express™ Pass shortens your waiting time for designated popular attractions!
Child Switch
The Child Switch system enables guests with children/companions who do not meet an attraction's height or other requirements to take turns and enjoy the attraction without waiting in line again. For details, please ask a crew member at the attraction.