TOP > Attractions > Harry Potter and the Forbidden Journey™ in 4K3D
Harry Potter and the Forbidden Journey™ in 4K3D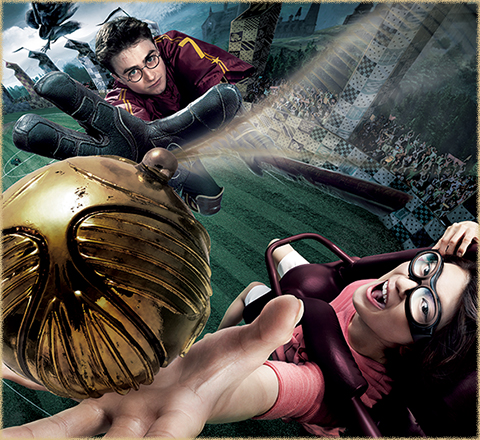 ※Photos are for illustrative purposes only.
*Golden Ticket Awards, "Best Dark Ride" Award 2013, 17th Annual Thea Award "Outstanding Achievement Award" (for Future Attraction), Theme Park Insider 2010 "Best New Attraction" Award awarded to this attraction located at Islands of Adventure, Universal Orlando Resort, Orlando, Florida, USA."
See Hogwarts™ castle recreated on a grand scale with meticulous attention to detail.
Travel through the massive castle gates and enter Hogwarts™ School of Witchcraft and Wizardry. Explore Dumbledore's office, the Gryffindor™ common room and the Defence Against the Dark Arts classroom before departing on a thrilling journey on Harry Potter and the Forbidden Journey™, "the ride crowned the world's best attraction in the past for five consecutive years"* which uses state-of-the-art 4K3D technology for an experience of unparalleled realism. Soar across the vast sky above Hogwarts™ at high speeds and experience the intensity of the thrilling immersive realism as the Golden Snitch™ races by as if within arm's reach. This unrivaled awe-inspiring attraction and its magical journey full of thrills and excitement is sure to be unforgettable.
Guest experience :
Approx. 5 minutes
Area :
The Wizarding World of Harry Potter
™
Hogwarts™ Castle Walk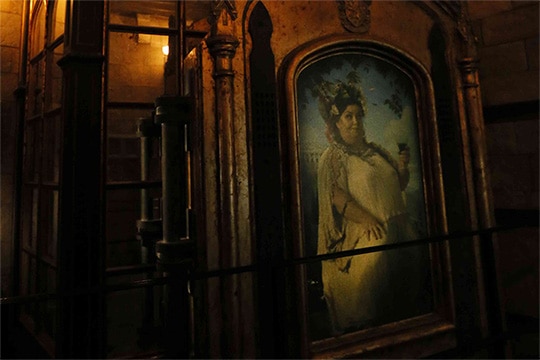 Hogwarts™ Castle Walk
You can walk through Hogwarts™ castle without riding the ride attraction.
Fully enjoy the world of Harry Potter™ including "Moving Portrait Corridor" and "The Portrait of the Fat Lady" like Harry Potter™ and his friends did!
※Please ask crew members about the operation hours.
Ride and height requirements for all Attractions
Height Requirement
You must be at least 122 cm tall.
Attraction Requirements
Guest experience: Approx. 5 minutes
Capacity: 4 persons

◆Special Effects
"Fog, smoke, strobes, water, soap bubbles, loud noises, pitch black
scents, Rapid acceleration, abrupt stopsturning、sudden upturns, abrupt falls, This ride simulates dramatic aerobatics.
※Persons with conditions aggravated by these special effects cannot use this attraction."
◆For Your Safety
In an emergency situation you may need to climb up and down the stairs or walk a long distance through a narrow passage by yourself (※) or with your supervising companion. Also, in such a circumstance you may need to wait for a long period of time inside the vehicle.
※'By yourself' means you are able to walk without assistance of others.
◆Guests requiring supervising companions
- Guests with mental disabilities
- Guests with impaired vision
- Guests experiencing difficulty using stairs or getting in/off the vehicle

◆Guests who should not use the attraction
(1) heart conditions
(2) back, neck, or similar conditions, spinal diseases,
(3) expectant mothers
(4) motion sickness, dizziness,
(5) acrophobia (fear of heights)
(6) claustrophobia
(7) Guests suffering from lack of sleep or poor physical condition
(8) Recent surgery
(9) Guests unable to maintain the proper posture
(10) a physical build not compatible with the seats
(11) unable to secure the body by the safety bar

◆The following guests can use the attraction.
- Guests who can get in/off the vehicle with or without the support of their supervising companions
- Guests who can hold on to the safety bar and remain seated upright at all times
- Guests who can endure the violent movements of roller coasters
- Guests with impaired vision are assisted with reconfirmation of instructions by the crew.
※For those guests with impaired vision, a crew member will explain the attraction experience in details.
※ Guests with hearing impairment will be assisted by a crew member explaining the attraction experience in details.
◆Request
・For your safety, please sit back in the seat with your back firmly against the backrest during the ride.
・You will be asked to leave the park if you disturb or offend other guests.
・No smoking in the facility
・Please do not bring your belongings into the vehicle.
・Please stow all loose articles (caps, hats, glasses, cameras, wallets, keys, etc.) in the lockers or with an accompanied non-rider.
Universal Express® Pass
The Universal Express® Pass shortens your waiting time for designated popular attractions!
Child Switch
The Child Switch system enables guests with children/companions who do not meet an attraction's height or other requirements to take turns and enjoy the attraction without waiting in line again. For details, please ask a crew member at the attraction.