TOP > Attractions > Flight of the Hippogriff™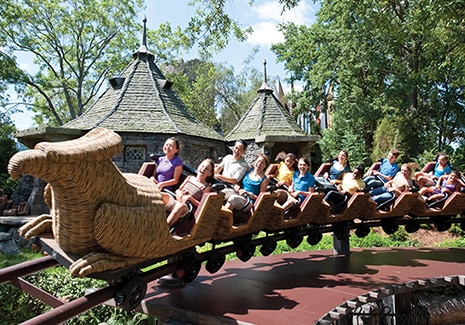 ※Photos are for illustrative purposes only.
Follow Hagrid's instructions as you learn the proper way to approach a Hippogriff, which has the head of a giant eagle and the body of a horse. Then you'll take off on a family-friendly coaster that spirals and dives around the pumpkin patch, and swoops past Hagrid's Hut.
Guest experience :
Approx. 2 minutes
Area :
The Wizarding World of Harry Potter™
Ride and height requirements for all Attractions
Height Requirement
Accompanied by a supervising companion: 92 cm or taller
(Unaccompanied: 122 cm or taller)
Attraction Requirements
Guest experience: Approx. 2 minutes
Capacity: 16 persons

◆Special Effects
rapid acceleration, abrupt falls, sudden upturns, wild turns
※Persons with conditions aggravated by these special effects cannot use this attraction.
◆For Your Safety
In an emergency situation you may need to climb up and down the stairs or walk a long distance through a narrow passage by yourself (※) or with your supervising companion. Also, in such a circumstance you may need to wait for a long period of time inside the vehicle.
※'By yourself' means you are able to walk without assistance of others.
◆Guests requiring supervising companions
- Guests with mental disabilities
- Guests with impaired vision
- Guests experiencing difficulty using stairs or getting in/off the vehicle
◆Guests who should not use the attraction
(1) heart conditions
(2) back, neck, or similar conditions, spinal diseases,
(3) expectant mothers
(4) motion sickness, dizziness,
(5) acrophobia (fear of heights)
(6) claustrophobia
(7) Guests suffering from lack of sleep or poor physical condition
(8) Guests unable to maintain the proper posture
(9) a physical build not compatible with the seats
(10) unable to secure the body by the safety bar
◆The following guests can use the attraction.
・ Guests who can get in/off the vehicle with or without the support of their supervising companions.
・ Guests who can hold on to the safety bar and remain seated upright at all times
・ Guests who can endure rapid movements
※ You may be asked to refrain from experiencing the attraction for safety concerns due to your physical build.
※ Guests with hearing impairment will be assisted by a crew member explaining the attraction experience in details.
◆Request
・For your safety, please sit back in the seat with your back firmly against the backrest during the ride.
・You will be asked to leave the park if you disturb or offend other guests.
・No smoking in the facility
・Please stow all loose articles (caps, hats, glasses, cameras, wallets, keys, etc.) in the lockers or with an accompanied non-rider.
Universal Express Pass
The Universal Express Pass shortens your waiting time for designated popular attractions!
Child Switch
The Child Switch system enables guests with children/companions who do not meet an attraction's height or other requirements to take turns and enjoy the attraction without waiting in line again. For details, please ask a crew member at the attraction.