Join the adorable Minions as they cause all sorts of wild and crazy commotion on this exciting new ride attraction!
Introducing a brand new, thrilling ride that brings guests into the Minions' world of absolute mayhem! The ride features a giant dome screen and a projection system that achieves the ultimate realistic sensations.
Presented by Japan Airlines Co., Ltd.
The setting is Thief, Gru's house doubling as his laboratory. Hop into a vehicle designed by Gru to transform into an actual Minion, then get ready to plunge into an adorable world of Minion mayhem!
Basic attraction information
Attraction
type

Ride attraction
Time
requirement

Approximately 25 minutes
Height
limit

Guests must be at least 122 cm tall

(if unaccompanied)

to experience this attraction, or at least 102 cm tall if accompanied by an escort.
* Escorts must be mentally and physically healthy, of junior high school age or older, and meet our usage requirements.


Minions Hacha-Mecha Greeting

Make friends with the Minions strolling so joyously throughout the town!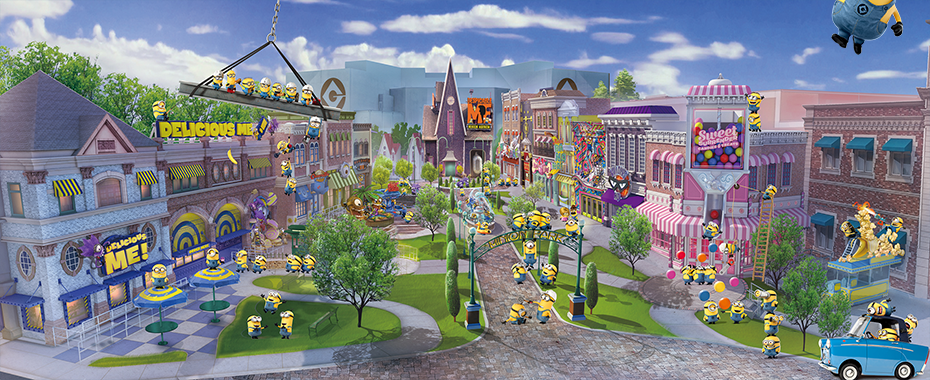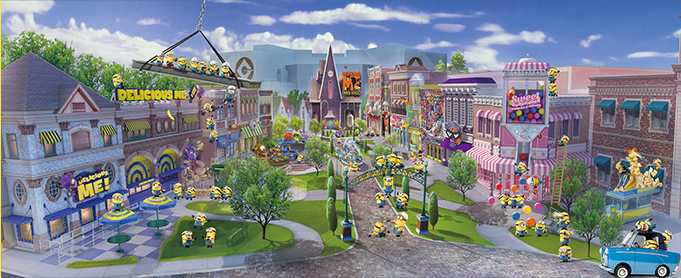 The sweets factory, a renovated warehouse,
and the Minions'favorite boutique line the downtown streets.
Witness the Minions creating their mayhem-filled cookie recipes. Try a scrumptious cookie sandwich baked in their latest invention the Minions' Cookie Machine.

Delicious Me! The Cookie Kitchen

A highlight of Minion Park is the memorable "Super Silly Space Killer" arcade game, where Agnes "won" her lovable stuffed unicorn ("It's so fluffy!"). Visiting guests have a chance to try and beat the odds as they vie to win Minion game prizes and their own stuffed unicorn.

Space Killer

Presented by ART Corporation

Flip their favorite food, bananas, to earn a reward from the Minions!

Banana Cabana

A Minion has been turned into a giant thanks to the Enlarge gun! Don't miss this photo opportunity!

Delicious Me! Photo Opportunity

Presented by AEON Financial Service Co., Ltd.
The Minions have assembled and created the world's most mayhem-filled shopping area.
Get trendy and Minion Approved merchandise such as…

Minions Pop Shop

A totally fantastic novelty item store run by the sweet-loving Minions!

Sweet Surrender

Experience the inventinve Minions in action at the Minion Toy Research and Development Headquarters. Witness their love and passion for toys.

Fun Store

Highly recommended by the Minions... Banana-flavored popcorn!

Pop-A-Nana